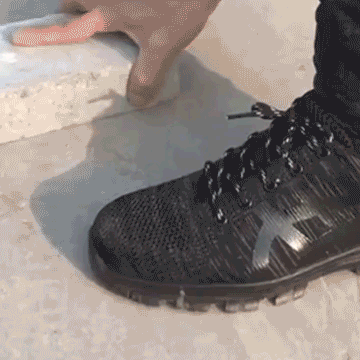 Material
Made from the world's strongest material, these lightweight and durable safety shoes are designed to withstand the damage they cause. It is perfect for both men and women and is best suited for tough working conditions and demanding outdoor activities.
Whether outdoors or indoors, your feet are often endangered during your work: shocks, jams, crushing, perforations, electrical contacts, slips, falls, false movement ... It is important to protect them effectively when each of your DIY jobs.
Your feet are safe, like in a cocoon
Your entire foot is protected thanks to the anti-perforation and anti-shock element of the Gearcove shoe.
These safety shoes will accompany you in all your work!
Designed to last and offer both protection and comfort, Gearcove safety sneakers carry technology with them. They feature a patented mesh design for unparalleled comfort, lightness and breathability as well as a non-slip outsole, anti-puncture steel midsole and anti-perforation toe kick. -collision.
There are many possibilities for injury
Most accidents are directly related to the environment and not to your actions. Most often, accidents are related to the impact of a heavy object or the puncture caused by it. They are also frequently caused by skidding on smooth or slippery ground.
CHARACTERISTICS
Suitable for difficult working conditions
Non-slip sole: resistant and non-slip sole.
Breathable and light: they are very light, it feels like you are not wearing shoes.
Waterproof - (material will never be damaged by water)
No nails can get into the shoes
Protect your toes with steel toes
Note: Measure foot length and carefully review our Size Chart before ordering to avoid size problem!

Tip: To save the shipping cost, please give the best price, our shoes have no shoebox, thank you for your understanding